American Bank Announces New Director of Bank Operations
Austin, TX | June 29, 2023
Tenured banking executive, Eddie Gammon, has joined American Bank as its Director of Bank Operations. Making the announcement was Todd Lee, American Bank's Chief Information Officer.
"I'm thrilled that Eddie is joining our team at American Bank," said Lee. "As a banking professional and accomplished leader, Eddie's deep experience in banking systems and financial operations will be a tremendous asset to our bank, employees, and clients. I've worked in the financial services industry for a long time, and I've not met many people who understand the intricacies of banking operations at the level that Eddie does. He is a great addition to our growing team."
Gammon brings to American Bank more than 40 years of operational, financial, managerial, treasury management, payments, technology, and sales experience in the banking industry. In his new role, he will provide leadership to the Bank Operations team ensuring that all activities are completed in compliance with applicable laws, regulatory guidelines, and bank policies and procedures. Gammon will also be responsible for electronic payments and reconciliations, fraud detection and security, and implementing operational strategies and tactics to help achieve the bank's goals.
"In my prior consulting role, I was able to get to know the American Bank team and culture," said Gammon. "This is the type of organization I'm proud to represent. Throughout my career, I've focused on elevating the client experience, and I'm grateful to join an organization that has a clear commitment to putting clients first."
About Eddie Gammon
Gammon joins American Bank as Director of Bank Operations after spending the past year consulting for American Bank as the owner of Gammon Consulting, LLC. Prior to that, he spent more than 40 years in executive leadership roles with several banks located throughout Tennessee, Louisiana, and the Southeast. Gammon has broad experience and a depth of understanding in nearly all areas of banking, including operations, finance, treasury management, payments, technology, and sales. Gammon earned his degree in business management from the University of New Orleans and has been a Certified Treasury Professional for more than 25 years. He has also served in many board level roles with community nonprofits and banking industry organizations.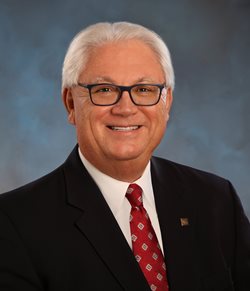 About American Bank
American Bank was founded in Corpus Christi, Texas in 1970. It is an independent financial institution with assets of $2.4 billion as of March 31, 2023. American Bank has 19 locations in the Texas communities of Austin, Houston, San Antonio, New Braunfels, Corpus Christi, Port Aransas, Rockport, Goliad, and Victoria. Since early 2022, American Bank has made two strategic acquisitions. It acquired ACG Equipment Finance based in Austin, Texas, which provides financing for essential business use equipment across the United States. American Bank also acquired TexStar National Bank and its six branch locations in the San Antonio area. American Bank's strategic plan includes growth in the size and scope of the bank's operations and geographic footprint; an exceptional banking experience for clients; and a position as a leading regional Texas bank. Services include Commercial Banking, with Centers of Excellence specializing in commercial real estate, medical, energy, SBA and technology lending; a full range of Personal and Business Banking services, including business and personal deposit accounts and loans; Wealth Management services including Private Banking, Investment Management, Trust and non-bank investments; a full suite of technology-enabled Treasury Management services; home mortgage and construction-related loans; and a full range of electronic banking services. More information can be found at www.americanbank.com. Member FDIC. Equal Housing Lender.