American Bank is Strong
Today, more than ever, it's a great time to be at American Bank. Whether you're running a business or just need a checking account, you deserve a banking partner who is strong, stable, and secure. At American Bank you get all this and more.
Experienced and proven
We are a healthy independent community bank, and we live and work in the communities we serve. This is how we've operated for more than 52 years. That's not going to change. As we have seen in all of the various past market downturns, recessions, weather events, and even during the pandemic, American Bank has not only survived extreme external challenges, we have thrived. We have a 52-year history of expertly navigating and managing the ups and downs of business to ensure we can keep the promises we make to you – our friends, neighbors and clients, no matter the economic or market headwind. It's a hallmark of American Bank and you can count on us.
Financially strong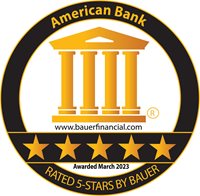 When it comes to our financials, we're in great shape. In 2022, we had the best year in our history, and we'reexcited and confident about the future. We maintain a strong capital position, robust liquidity, pristine asset quality, outstanding profitability, and we follow a traditional, straightforward business model for banking, building relationships, and serving our clients. We also carry a 5-star (superior) rating for financial strength as recognized by Bauer Financial. This is the highest rating Bauer Financial awards.
Grow with us
So, if any of the recent national news has made you pause and think about your bank accounts or investments, this is a great time to talk to one of our bankers and expand your relationship with us. You're working with a local Texas bank with a strong and healthy balance sheet. Our commitment is to do things the right way and to put our clients first. And please feel free to share this message with anyone who might want to learn more about American Bank. We're opening new accounts for commercial and personal banking clients every day, even more so in light of recent events. We love to see the American Bank family grow, and we have great products and solutions to address all of your financial goals.