American Bank Announces Chelsey Reeder as Branch Manager for Victoria Location
Corpus Christi, TX | June 6, 2023
Chelsey Reeder was recently named Branch Manager for American Bank's Victoria branch, located at 4304 N. Navarro Street in Victoria, Texas. Making the announcement was Randy Price, American Bank's Market Leader for Victoria.
"I'm excited to welcome Chelsey to our Victoria team," Price said. "Her extensive experience as a banking leader in our community, combined with her commitment to delivering exceptional customer service, will be invaluable assets to our bank and clients. I know our clients and branch team will enjoy working with Chelsey."
Reeder brings 15 years of community banking experience to her new role. She is also active in the local community where she volunteers at the Victoria Food Bank, Women's Shelter, Goodwill, the American Heart Association, the Jackson County Youth Fair and more.
"I am truly honored to join American Bank," said Reeder. "This is a great opportunity to share my experience and to further my banking relationships in the Victoria community. I look forward to working alongside the American Bank team as we support our area businesses and clients and help them meet their financial needs."
About Chelsey Reeder
Reeder joins American Bank as its Victoria Branch Manager after spending more than 15 years as a banker in the Victoria community. In her new role, she will provide leadership to the Victoria branch and manage branch operational activities. Most recently, Reeder served as Member Center Manager and Loan Underwriter for Texas Dow Employee Credit Union (TDECU) in Victoria, where she worked for more than 12 years. Prior to that, Reeder spent three years at First Victoria National Bank as a teller. She earned her degree in business management from Colorado Christian University and is active in the Victoria and Edna communities where she volunteers with Victoria Food Bank, the local Women's Shelter, Goodwill, the American Heart Association, Helping Hands, the Boys and Girls Club, Relay for Life, the Jackson County Youth Fair, and others.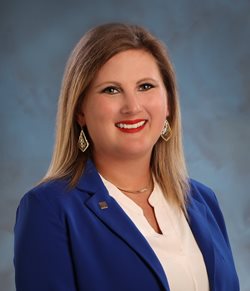 About American Bank
American Bank was founded in Corpus Christi, Texas in 1970. It is an independent financial institution with assets of $2.4 billion as of March 31, 2023. American Bank has 19 locations in the Texas communities of Austin, Houston, San Antonio, New Braunfels, Corpus Christi, Port Aransas, Rockport, Goliad, and Victoria. Since early 2022, American Bank has made two strategic acquisitions. It acquired ACG Equipment Finance based in Austin, Texas, which provides financing for essential business use equipment across the United States. American Bank also acquired TexStar National Bank and its six branch locations in the San Antonio area. American Bank's strategic plan includes growth in the size and scope of the bank's operations and geographic footprint; an exceptional banking experience for clients; and a position as a leading regional Texas bank. Services include Commercial Banking, with Centers of Excellence specializing in commercial real estate, medical, energy, SBA and technology lending; a full range of Personal and Business Banking services, including business and personal deposit accounts and loans; Wealth Management services including Private Banking, Investment Management, Trust and non-bank investments; a full suite of technology-enabled Treasury Management services; home mortgage and construction-related loans; and a full range of electronic banking services. More information can be found at www.americanbank.com. Member FDIC. Equal Housing Lender.