Mark Meyer Named American Bank South Texas Region President
CORPUS CHRISTI, TX | January 10, 2019
American Bank has announced that Mark Meyer has been named president of its South Texas Region. Making the announcement was Stephen C. Raffaele, Chief Executive Officer and President, and Ben Wallace, chairman of the bank's board of directors.
Meyer's new responsibilities include strategic direction and growth of the Corpus Christi market and the regional markets of Port Aransas, Rockport, Goliad and Victoria. He is also responsible for lending and credit approval in the region. "I am extremely pleased to announce that Mark Meyer will be leading our highly experienced team of banking professionals in the South Texas area as regional president," stated Raffaele. "The Coastal Bend is American Bank's home, and the Goliad/Victoria area was the first geographic expansion for the bank outside that area, so it's important for us to have a seasoned leader in South Texas with Mark's qualifications and expertise as we continue to move into new markets," he added.
"Mark knows South Texas and the needs of South Texans," said Wallace. "His kind of understanding and in-depth knowledge comes about only as a result of years of successfully serving clients in this geographic area, and it is an invaluable asset – both to the bank and to those here who rely on us for their financial needs," he added. "Mark exemplifies the unique, relationship-oriented, personal approach American Bank is known for, and we're fortunate to have him representing us in South Texas," Wallace continued.
About Mark Meyer
Meyer joined American Bank in 1997 as a Senior Lending Officer and subsequently became Chief of Branch Administration. Prior to his new position, he had served as the bank's Chief Lending Officer for ten years. During Meyer's American Bank tenure, he has been an integral part of the management teams responsible for the bank's growth from $200 million to nearly $1.4 billion in assets.
A South Texas native, Meyer graduated from the University of Texas at Austin with a BBA in Finance. As a volunteer, he has been active in a wide variety of roles in professional and civic organizations through the community. He has served as president of the Texas State Aquarium and is a member of the Class XVII of Leadership Corpus Christi. He currently serves or has served with the Corpus Christi Airport Board, the South Texas Council of the Boy Scouts of America, the South Texas Naval Foundation, Amistad Community Health Center, Texas Exes, the Corpus Christi Yacht Club, First United Methodist Church and the First United Methodist Church Foundation.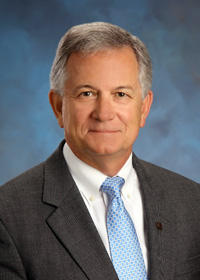 About American Bank
American Bank was founded in Corpus Christi, Texas in 1970. It is an independent financial institution with assets totaling nearly $1.4 billion as of September 30, 2018. The bank now has 16 locations in the communities of Austin, Corpus Christi, Goliad, Houston, Port Aransas, Rockport, San Antonio and Victoria. It also operates a network of 18 ATMs. The bank's strategic plan includes growth in the size and scope of the bank's operations and geographic footprint; an enhanced, exceptional banking experience for clients; and a position as a leading regional Texas bank. Services include commercial banking, with Centers of Excellence specializing in commercial real estate, medical, energy, SBA and technology lending; a full range of business and personal deposit accounts and loans; Private Banking for executives and professionals; Treasury Management services; construction and home-related loans; and a full range of electronic banking services. In addition, the bank's subsidiaries and other partners offer trust and asset management, insurance, and non-bank investment services. Those partners include American Bank Trust and Asset Management, the American Financial Insurance Services affiliate Borden Insurance, and American Investment Services, a division of Herndon Plant Oakley Ltd., member FINRA/SIPC. Member FDIC. Equal Housing Lender.