Stephanie Medina Named Branch Manager at Austin Westlake Location
Austin, TX | April 13, 2023
Stephanie Medina was recently promoted to Branch Manager for American Bank's Austin Westlake branch, located at 3520 Bee Caves Road. Making the announcement was John Greenwood, Austin Market President.
"Stephanie has capably led our Victoria branch for many years, and I've enjoyed getting to work with her," Greenwood said. "I have great respect for how Stephanie leads her team and serves the bank's clients. I'm pleased to have her join our Austin team of banking professionals where I know she'll build upon our culture of service and excellence."
Cheryl Blanco, American Bank's Regional Manager, added, "Stephanie is a great addition to our Austin banking team. Her expertise will enhance the range of services we deliver to our clients."
"I'm thrilled to be able to relocate to Austin and further my career with American Bank," said Medina. "American Bank offers a great opportunity for me to share my banking experience and lead my new team as we collectively support our Austin-area clients."
About Stephanie Medina
Medina originally joined American Bank in 2008 as a Teller at the bank's Victoria branch. Since that time, she's held numerous roles at the bank, including Personal Banker and Branch Manager. The majority of Medina's background has been in client-facing roles. Most recently, Medina was the Branch Manager at American Bank in Victoria. In her new role, she will provide leadership to the Austin branch and manage branch operational activities. Medina is also involved in her community where she's had an active leadership role with the Junior League of Victoria, serving as a committee chair and executive board member.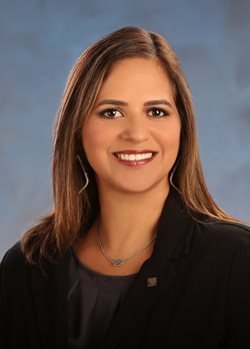 About American Bank
American Bank was founded in Corpus Christi, Texas in 1970. It is an independent financial institution with assets of $2.4 billion as of December 31, 2022. American Bank has 19 locations in the Texas communities of Austin, Houston, San Antonio, New Braunfels, Corpus Christi, Port Aransas, Rockport, Goliad, and Victoria. In December 2021, American Bank acquired ACG Equipment Finance based in Austin, Texas, which provides financing for essential business use equipment across the United States. In October 2022, American Bank announced it had received regulatory approval and closed on its acquisition of TexStar National Bank. American Bank's strategic plan includes growth in the size and scope of the bank's operations and geographic footprint; an exceptional banking experience for clients; and a position as a leading regional Texas bank. Services include Commercial Banking, with Centers of Excellence specializing in commercial real estate, medical, energy, SBA and technology lending; a full range of Personal and Business Banking services, including business and personal deposit accounts and loans; Wealth Management services including Private Banking, Investment Management, Trust and non-bank investments; a full suite of technology-enabled Treasury Management services; home mortgage and construction-related loans; and a full range of electronic banking services. More information can be found at www.americanbank.com. Member FDIC. Equal Housing Lender.