Todd Lee Named Chief Information Officer
AUSTIN, TX | March 28, 2019
Joseph T. "Todd" Lee has joined American Bank as Chief Information Officer. Making the announcement was Stephen Raffaele, Chief Executive Officer and President. Lee assumes the position in preparation for the June 1 retirement of long-time CIO Jim Avery.
"Over Jim's 40-year tenure, he has guided numerous technological advances at the bank including introduction of the bank's first computer system, PC's, digital banking for our clients, cloud computing, and most recently, a core systems conversion. His leadership and investment in the bank over the decades have played a crucial role in the bank's growth and success, and we wish him well as he moves into this new phase of life," said Raffaele.
In January 2018, the bank announced a five-year strategic plan designed to leverage its strength as a community bank and its reputation for solutions-oriented banking relationships. Key elements of the bank's vision include significant technology investment, and growth and investment in existing markets coupled with significant market expansion. In July 2018, the bank accomplished a major technology undertaking which included the conversion of its core banking system, online and mobile banking platforms, financial management software and numerous other applications.
"While technology has already been an area of significant focus in our five-year strategic plan, it will only increase in importance as our growth continues," stated Raffaele. "Todd brings a wealth of IT experience and knowledge from the banking sector, along with a background of significant leadership in and outside of the financial services arena. He will be a critical resource for us as our legacy of IT innovation continues and the benefits and risks of technological reliance continue to increase," he added.
About Lee
Most recently, Lee was one of the executive founders of a new bank holding company, Maple Financial Holdings, in Dallas, Texas, and its subsequent bank, MapleMark Bank. He served as Chief Operations Officer with responsibility for information technology, deposit operations, treasury services operations, loan operations, project management, human resources and facilities. In addition to establishing new operational teams, he selected and implemented various platforms and provided day-to-day management for the bank.
Before his involvement with MapleMark, Lee held leadership positions with other financial institutions, where his responsibilities included business process improvement and acquisition management in addition to operations and IT. Prior to moving into the banking sector, he served in the public schools arena with IT and operations-related leadership responsibilities for a major Oklahoma school system. His career began as a consultant with Andersen Consulting.
Lee holds a Master of Business Administration and a Bachelor of Science from Texas Christian University in Fort Worth, Texas.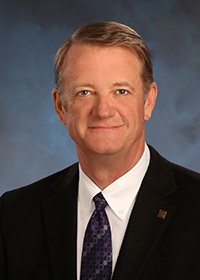 About American Bank
American Bank was founded in Corpus Christi, Texas in 1970. It is an independent financial institution with assets totaling nearly $1.4 billion as of December 31, 2018. The bank now has 16 locations in the communities of Austin, Corpus Christi, Goliad, Houston, Port Aransas, Rockport, San Antonio and Victoria. It also operates a network of 18 ATMs. The bank's strategic plan includes growth in the size and scope of the bank's operations and geographic footprint; an enhanced, exceptional banking experience for clients; and a position as a leading regional Texas bank. Services include commercial banking, with Centers of Excellence specializing in commercial real estate, medical, energy, SBA and technology lending; a full range of business and personal deposit accounts and loans; Private Banking for executives and professionals; Treasury Management services; construction and home-related loans; and a full range of electronic banking services. In addition, the bank's subsidiaries and other partners offer trust and asset management, insurance, and non-bank investment services. Those partners include American Bank Trust and Asset Management, the American Financial Insurance Services affiliate Borden Insurance, and American Investment Services, a division of Herndon Plant Oakley Ltd., member FINRA/SIPC. Member FDIC. Equal Housing Lender.