Business Digital Banking
With digital banking you can check real-time balances, transfer funds, review transaction history and pending items, view images of checks, set alerts on your accounts, and so much more.
Features & Benefits
User Management
Company administrators can quickly set up new users, assign privileges, monitor transactions and various other precautions to make sure you stay in control.
ACH
American Bank ACH services speed up processing for your payments and deposits.
Online Wires
When time is of the essence, online wire transfers are the fastest and most secure way to get your money where it needs to go.
Positive Pay
Protect your account from unauthorized transactions and simplify your monthly reconciliation with Positive Pay. Positive Pay is a great way to stop fraud in its tracks or prevent it from ever happening in the first place.
View account balances, review your business loans and approve payments such as ACH or online wires on your schedule.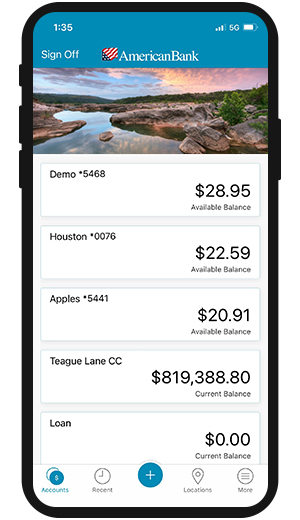 Secure Sign In
Utilize any of the secure sign-in functionality we offer, such as Touch ID® and Face ID® (Apple), fingerprint sign-in (Android).*
Deposit checks into your checking or savings accounts with a few simple taps and snaps from your camera.
Pay bills quickly and easily – all from one place. Manage payees, setup e-bills, add invoices, monitor activity, manage users, and reduce errors and potential fraud by enabling payment approvals.
Promotional content related to product page
At American Bank, you don't just apply for a loan; you start a relationship, the way banking should be. We are committed to your success and are here to act as your trusted business advisor.
Android, Google Play, and the Google Play logo are trademarks of Google Inc.
Apple, the Apple logo, Touch ID and Face ID are trademarks of Apple Inc., registered in the U.S. and other countries. App Store is a service mark of Apple Inc.
* Touch ID®, Face ID® or fingerprint sign-in: Only certain devices can use these features. If your device has one of these capabilities, you will be given the option to activate the feature by following the prompts within the Mobile Banking app.