Make your debit card work for you.
American Bank's personal Mastercard® debit card is a fast, easy, and secure way to make everyday purchases. It's also a convenient way to keep track of your finances since funds are deducted directly from your checking account.
Simply tap-to-pay in-store with your contactless card or mobile wallet. Look for the contactless symbol anywhere you shop.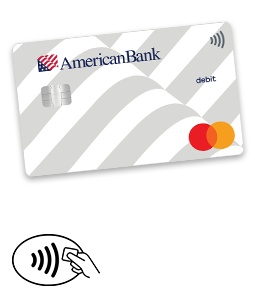 Features & Benefits
More convenient and versatile than checks or cash.
No interest charges on purchases.
Signature and PIN based transactions.
24-hour phone support through Mastercard's Customer Service line.
Monitor your debit card transactions in Online Banking and Mobile Banking.
Debit card controls are available in the Personal Mobile Banking app to set alerts, spending limits, and more.
Using your card is secure and easy
Use your card at ATMs and for purchases anywhere you see the Mastercard logo. Plus, you can get cash back at grocery stores, pharmacies, and other participating merchants.
The card's microchip technology provides the latest in global security features and your unique PIN helps to prevent unauthorized purchases or ATM activity.
Cards are issued quickly and conveniently at any branch.
Can't make it in? Call Client Services and have a debit card mailed to you.
Treat your debit card like cash and keep it in a safe place. Memorize your PIN and never carry a written record of it.
Use ATMs in visible, well-lit locations and quickly take your cash. Always double-check your withdrawal amount on the ATM screen.
Use receipts to check for unauthorized or inaccurate transactions. Immediately report statement errors to Mastercard Customer Service.
Promotional content related to product page
Enjoy convenience in a card.
Whether you want to pay down balances faster, begin building your credit history, maximize cash back or earn rewards, we have the ideal card for you! Choosing the right credit cards for your needs has never been easier.
Personal Loans
We'll customize a loan solution that allows you the freedom to purchase a vehicle, plan a family reunion, consolidate your debt and more.