Mobile Deposits
With American Bank's mobile banking apps, you can securely deposit checks right into your checking or savings account using your smartphone, and the funds are typically available the next business day. See how mobile deposits are convenient, easy and quick.
What is mobile deposit?
Convenient
Deposit checks anytime and anywhere, with no additional banking fees.
Easy
Deposit your check with a few simple taps and snaps from your camera.
Quick
Save a trip to a branch and avoid delays from mailing physical checks.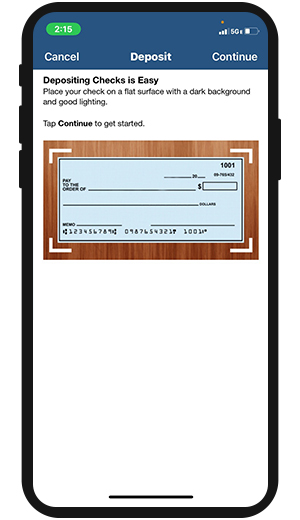 How to make a mobile deposit
Endorse

Endorse your check as you normally would and include "For Mobile Deposit Only" below your signature.

Sign In

Log in to our Mobile Banking app and tap the plus sign in the navigation menu. Select Deposit.

Take a Photo

Place your check on a flat surface with a dark background and good lighting. Capture photos of the front and back after selecting from the Front and Back buttons.

Add Details

Select the account for the deposit, then enter the amount and the email address for receipt.

Confirm

Review details and tap Approve.
Secure access to our Mobile Banking apps
Safely log in using your Online Banking User ID and password or utilize any of the secure sign in functionality we offer, such as Touch ID® and Face ID® (Apple), fingerprint sign-in (Android) or a unique 4-digit passcode.*
Business Mobile Banking
Personal Mobile Banking
Have questions?
Call Client Services at (800) 257-8316.
Refer to the Mobile Deposit section of the Electronic Banking Agreement for detailed information.
Android, Google Play, and the Google Play logo are trademarks of Google Inc.
Apple, the Apple logo, Touch ID and Face ID are trademarks of Apple Inc., registered in the U.S. and other countries. App Store is a service mark of Apple Inc.
* Touch ID®, Face ID® or fingerprint sign-in: Only certain devices are capable of using these features. If your device has one of these capabilities, you will be given the option to activate the feature by following the prompts within the Mobile Banking app.